World premiere of the smart pole at ISE 2019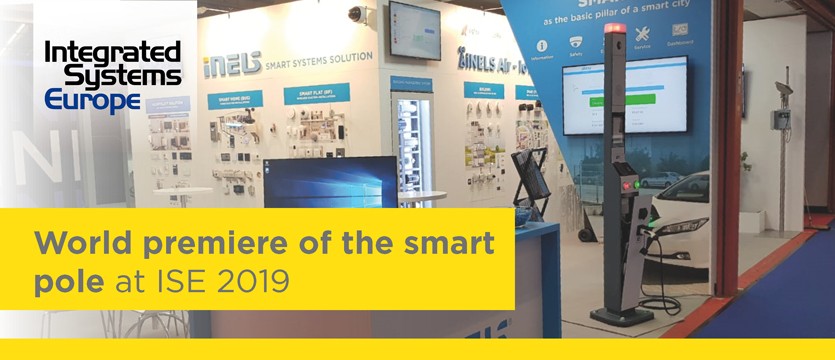 On Friday, 8th February , the doors of one of the largest technology exhibitions in the world ''Integrated Systems Europe 2019'' in Amsterdam, closed.
For ELKO EP, this was a 4-day success story in every direction, during which 2897 visitors came to see and hear about our latest news this year. There with a world premiere, we presented, in full view, our modular smart pole, and we were highly pleased with the great attention it received.
This dominating 4.5 meter high pole boasts 12 smart technologies that integrate from the base station with the electro mobility charging station to the Wi-Fi hotspot at the top of the pole.
Smart Pole as an essential part of every smart city, it is also equipped with USB and wireless charging technology, SOS Emergency button, intercom for communication with dispatch, information touch panels, air quality sensor, camera, Wi-Fi hotspot and main power-saving LED street illumination on top of the pole, which, thanks to the intelligent adaptation of ambient lighting, can save up to 30% of the cost of lighting annually. The smart pole is fully modular and can be built in four variants with the appropriate devices according to the planned use in any part of the city.
Eight new solutions for the Smart City
ELKO EP also introduced a number of IoT solutions for every city. Visitors' attention was drawn to, for example, the iNELS solutions for fill level of garbage bins and containers, parking sensors for the perfect overview of free and occupied parking spaces or the improved air quality sensor.
The advantage of our IoT products is especially the quick deployment without complex installations and, above all, the ability to monitor, evaluate and manage practically any sphere of smart cities from comprehensive building management to street lighting management.
Another part of the presentation was devoted to the comprehensive IoT solution for smart agriculture, which will be one of the priorities of this year's ELKO EP product line.
New developments in wireless electrical installations for existing buildings and hotels, along with applications for Samsung Hospitality TV or the new range of iNELS Bus glass switches, with a completely customizable look and icon pattern, were also of great interest.
The ELKO EP stand was also the place for business and casual meetings. Our traditional Moravian hospitality was experienced by several dozen of our existing clients and nearly six hundred potential customers who all showed a keen interest in ELKO EP products and iNELS solutions.
Date of publication: 13. 02. 2019
Information about the company
ELKO EP is one of the world's leading manufacturers of electronic equipment for residential, office and industrial automation. We have been supplying the world over for the past 27 years; our main domain is primarily relays, but we also supply wireless products and IoT products. But we're not just focused on products; we also propose comprehensive and highly effective solutions.
Our branches are located in 13 countries around the world, but all developments and production takes place in our own premises in Holešov. Thanks to this background, we have received several important awards, such as the Visionary of the Year 2015 or the Global Exporter in 2016.
Calendar
Customer Centre
Technical support
| | |
| --- | --- |
| | +420 573 514 242 |
| | support@elkoep.com |
Complaints technician
| | |
| --- | --- |
| | +420 770 177 028 |
| | balla@elkoep.com |