For the first time in Athens, to showcase hotel solutions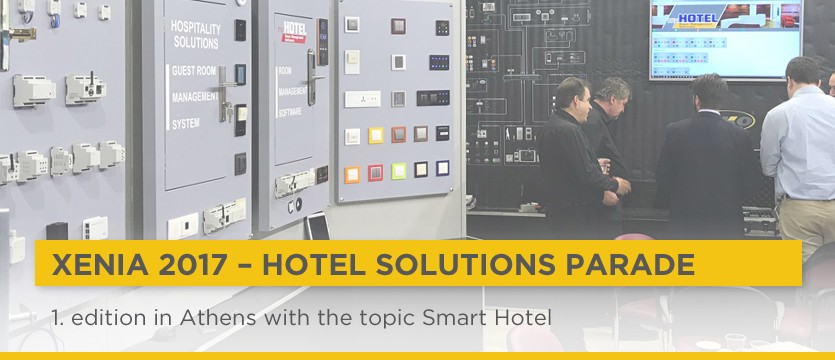 ELKO EP participated in the premium edition of Xenia 2017, which took place on 25-27 November at the Athens Metropolitan Expo. Four full halls offered a variety of smart technologies and solutions for hotels and tourism in general.
Our company introduced its iNELS hotel systems - RFID (Radio Frequency Identification) access systems, IPTV solutions in conjunction with the iNELS Hospitality Solution system where hotel rooms are controlled via the hotel room TV and internet protocol, or via iNELS Hospitality and PMS (Property Management System).
The interest of the hoteliers and the attendance of the exhibition was high, The tourist season in Greece ended recently, so it is the best time to start working on renovations and improvements. That's why we were glad to be able to take part in this premiere and introduce our solutions.
Date of publication: 04. 12. 2017
Information about the company
ELKO EP is one of the world's leading manufacturers of electronic equipment for residential, office and industrial automation. We have been supplying the world over for the past 27 years; our main domain is primarily relays, but we also supply wireless products and IoT products. But we're not just focused on products; we also propose comprehensive and highly effective solutions.
Our branches are located in 13 countries around the world, but all developments and production takes place in our own premises in Holešov. Thanks to this background, we have received several important awards, such as the Visionary of the Year 2015 or the Global Exporter in 2016.
Calendar
Customer Centre
Technical support
| | |
| --- | --- |
| | +420 573 514 242 |
| | support@elkoep.com |
Complaints technician
| | |
| --- | --- |
| | +420 770 177 028 |
| | balla@elkoep.com |