7 tips, how smart house can sweeten Christmas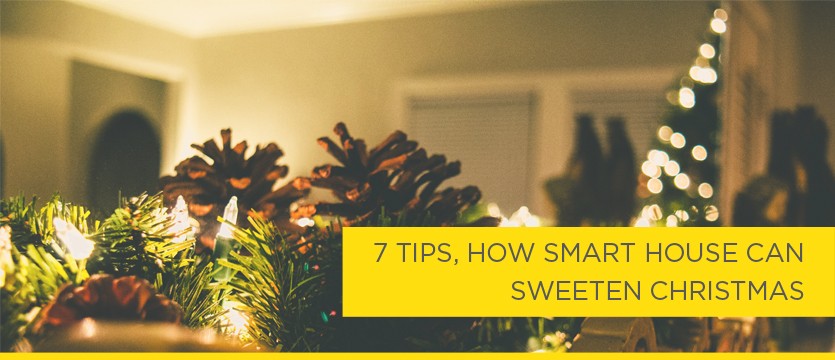 Few of us can imagine Christmas time without candles, candle sticks, lights, a lit Christmas tree and bright decorations that adorn balconies and trees and entire houses.
1.
Christmas interior decoration in the windows – lights, light strings or other Christmas light accessories can be controlled by a smartphone.
2.
The lamp standing in the corner of the room with a soft backlight can create the right Christmas atmosphere. Can you not dim your lamp? It does not matter. External dimmers can do this.
3.
Do you want to decorate your house with coloured LED strips that automatically change colour? Accurately tailored to your needs, we will prepare a solution specifically for your home.
4.
The colour of Christmas controlled by your smart phone. You can mount LED bulbs anywhere in the house or apartment and simply control them from your mobile phone.
5.
Music is inherent to a Christmas full of joy. LARA will take care of unforgettable moments. It can play music from the phone, radio or central repository, and all in the design of a switch What do you need?
LARA radio
(you can freely select your radio design in our
configurator
)
6.
Have oversight over children, protect them from danger, it is sometimes beyond human power, and twice as much at Christmas time. Bake, clean, we try to prepare for the wonderful moments spent with family, while not escaping the dangers lurking over our loved ones. The solution is a camera tehat sends the image into a smartphone, allowing you to monitor what is most important to you.
7.
Electric fireplaces, heaters, radiators are in every household, whether they are used as decoration or a heat source. Under no circumstances can they be left unattended! And what if gaining control over these appliances can also save you money?
Are you interested in more information? Do not hesitate to contact us: support@elkoep.com
Date of publication: 13. 12. 2018
Information about the company
ELKO EP is one of the world's leading manufacturers of electronic equipment for residential, office and industrial automation. We have been supplying the world over for the past 27 years; our main domain is primarily relays, but we also supply wireless products and IoT products. But we're not just focused on products; we also propose comprehensive and highly effective solutions.
Our branches are located in 13 countries around the world, but all developments and production takes place in our own premises in Holešov. Thanks to this background, we have received several important awards, such as the Visionary of the Year 2015 or the Global Exporter in 2016.
Calendar
Customer Centre
Technical support
| | |
| --- | --- |
| | +420 573 514 242 |
| | support@elkoep.com |
Complaints technician
| | |
| --- | --- |
| | +420 770 177 028 |
| | balla@elkoep.com |