A quarter of homes are limited due to the expenditure on heating.
Additional information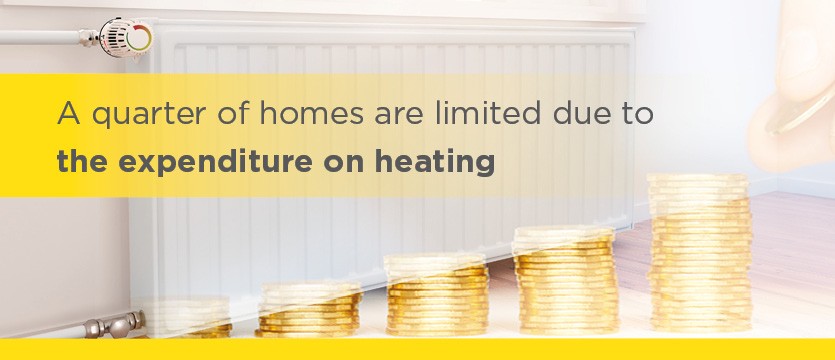 Due to heating costs, one fifth of Czech households must reduce other expenses. Two-fifths of people do not heat some parts of the apartment or house as they would like it. Czechs are also champions at overheating. Yet effective control over heating can save up to a third of spending.
According to STEM's February survey, nearly a quarter of households (22%) have heating costs so high that they have to cut down on other expenses to cover heating costs. Two fifths of households (39%) said that due to the amount of heating costs they do not heat some parts of the apartment or house in winter as it would suit them.
The opposite problem is overheating. Only 13% of households maintain the European standard of 20 degrees Celsius, only 6% of respondents set lower temperatures. The most common set temperature in the living room is 22 ° C, which was reported by exactly a quarter of Czechs, 37% of people will even heat above this value. Doctors warn against the health risks of overheating.
The greatest potential for heating control
Energy ignorance contributes to the high heating costs. People are oversaturated by the supply of electricity and gas suppliers, which is one of the reasons why they are not really actively interested in heat savings. Yet the Mediasearch survey for ELKO EP is in favour of saying that smart homes are "coming with time" (86% of respondents) and that effective temperature control (69%) has the greatest potential for use.
A third of savings due to efficient control
ELKO EP's many years of experience show that it is possible to save up to a third of heating costs by switching to effective temperature control. The return on initial investment in replacing existing heating technology elements with programmable thermo-heads or thermostats is based on the number of devices used in the order of months or few years.
Digital thermo-heads or thermostats allow you to set heating modes during the day, night, weekend or holiday. As an example of savings we can mention the fact that it is not necessary to heat to the same high temperature when the household members are out for the day.
Heating control and expense overview in the application
Heating costs can be conveniently monitored and evaluated in the iNELS Home Control application, which is available free of charge for mobile phones and tablets (Android and iOS) with the appropriate iNELS (ELKO EP's intelligent solutions brand). They can also be used to conveniently change the temperature and set the heating scenarios in each room separately. Smart heating control is also possible with underfloor heating and heat sources connected to the mains.
Further information can be found in the article Heating control under control.
Date of publication: 19. 03. 2019
Calendar
Customer Centre
Technical support
| | |
| --- | --- |
| | +420 800 100 671 |
| | support@elkoep.com |
SALES
| | |
| --- | --- |
| | +420 573 514 221 |
| | sales@elkoep.com |