Boom of smart boxes – one application to control the whole house
Additional information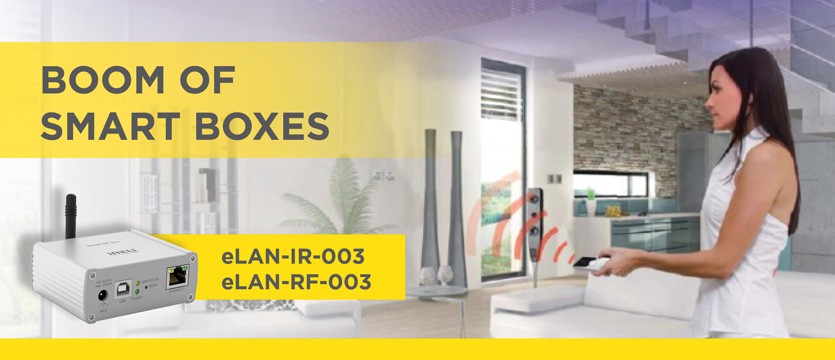 Households are flooded with a number of remote controls that make life more complicated. In time, the eLAN-IR-003 smart box the completely innovative product of ELKO EP, can replace all standard IR controllers
Thanks to it, you can control air conditioning, television, home cinema, DVD or Blu-ray player, set top boxes, satellites, projectors, or robotic vacuum cleaners through the smart phone application.
Within one application, you can install up to 10 smart boxes to control your living room, children's bedroom, or bedroom. The smart box has 3 IR transmitters that can control an unlimited number of appliances in the direction of the IR transmitter. Overall, a smart box can learn up to 100 commands from the controllers. The range of the IR transmitter is 8 m from the controlled appliance. The smart box function is completely independent of the internet connection or cloud solution, and your data is safely stored in your device's memory.
The settings can be customized by everyone
To set commands from the remote controls to the smart eLAN-IR-003 box, you do not need to know any codes of a controlled device, or complex search in the database. You can download iNELS Home Control for Android or iOS devices free of charge from your smartphone or tablet. It automatically connects to the smart eLAN-IR-003 box that further communicates with the IR transmitter.
The smart box biggest asset is that it works in the same application as control of lights, heaters, cameras ... You get one smart application that you control the whole house in a complex way and do not have to switch between many different applications. iNELS Home Control is completely free for you, with no ads or in-app purchases.
More information, technical specifications and manual can be found here:: eLAN-IR-003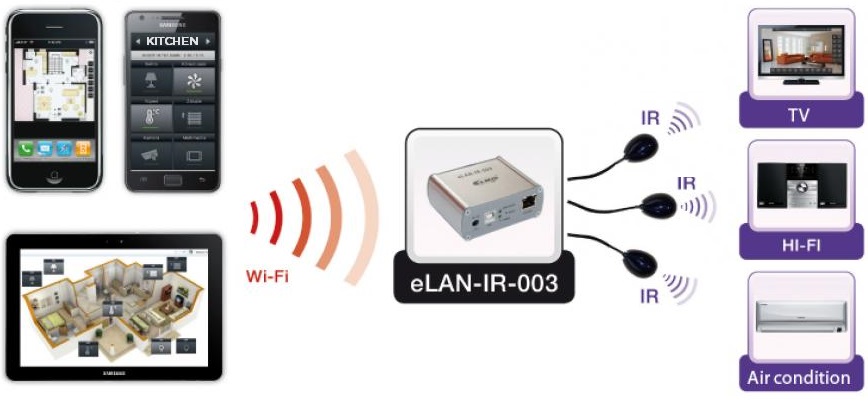 How to control other electrical appliances
It's not just infrared-controlled appliances that can be under your control through smart phone, tablet or TV with integrated web interface. Thanks to the smart eLAN-RF-003 box and the appropriate wireless components (actuators, sockets, sensors, thermo-heads, etc.) you can control other electrical appliances.
Selected application features iNELS Home Control:
Control of hot water and electric floor heating
Temperature measurement by wireless sensors
Switching of appliances (garage doors, blinds, fan, irrigation, sockets)
Dimming of lights (LEDs, economical, halogen or even classical bulbs)
Time switching (delayed switch-off of light when leaving room)
Integration of cameras
Option to set scenes
Functions for SMART TV:
Any SMART TV that has an integrated web browser is compatible.
The control environment is intuitive and photos can be inserted in the background and layout along with icon placing to get an overview of the area controlled device.
Functionality: ON / OFF switching, automatic timing, dimming, scenes, heating in the form of temperature indication (change is done directly in the smartphone application), camera (image or live stream if supported by the SMART TV web browser)
Control from anywhere
With the smart eLAN-RF-003 box, you get absolute freedom of control. This is possible within the Wi-Fi network, but also remotely from anywhere, for example from work or vacation. This is especially useful when controlling the heating or air conditioning, which you can turn on and set in advance, for example before you leave the cottage.
The smart box eLAN-RF-003 also has the "SCENE" function, whereby multiple tasks are performed one at a time. For example, before sleeping, ALL-OFF can turn off all required appliances throughout the house.
More information, technical specifications and manual can be found here: eLAN-RF-003
Application iNELS Home Control
The application is runs via a smartphone connected to the smart box (ELAN-RF / eLAN-IR), which further communicates with the devices of RF Control, your Audio / Video equipment, door videophone, camera or weather station. The application is the central control of your home and provides an overview of the current state.
Application overview iNELS Home Control
Combination of smart RF and IR boxes in one application
Weather forecast (GIOM 3000 weather or Internet download)
Combination of scenes (IR and RF)
Clear graphic interface with icons
The ability to create "Widgets", which brings simple control of appliances directly from the smartphone.
iNELS Home Control free download here:
Date of publication: 05. 03. 2019
Calendar
Customer Centre
Technical support
| | |
| --- | --- |
| | +420 800 100 671 |
| | support@elkoep.com |
SALES
| | |
| --- | --- |
| | +420 573 514 221 |
| | sales@elkoep.com |