Immerse yourself in news from the world of iNELS and ELKO EP
Additional information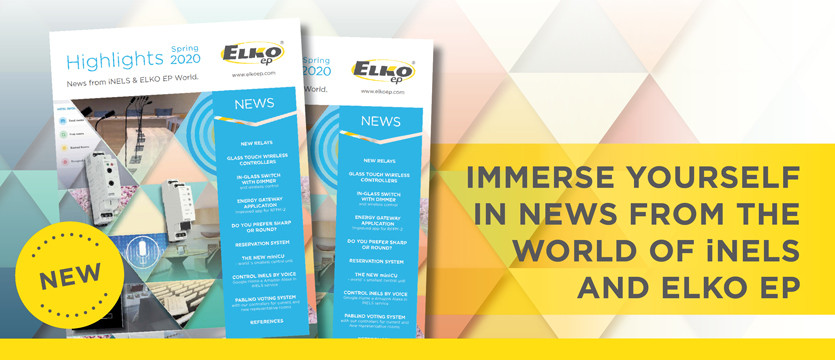 Dear customers,
After a year let us open the gates of our company to you again although this year we cannot meet in person so they are the imaginary gates! But we can show you, at least through the new issue of Highlights 2020 magazine, the news that moves our corporate world this year. We select the most interesting products and ideas for you.
Let's start where we are strongest - with relays. Not only did we manufacture, but also introduced a number of innovations in the production of the time and socket relay product groups. In addition to the functions, the time relays also received thenew 1-module box. You will find all useful information in a clear table that we have prepared for you.
The world of wireless electro installations has been completely dominated by the new glass controllers marked RFGB-20 and RFGB-40, with which you can control 2 to 4 devices on an elegant surface in black or white. If you are a fan of round shapes rather than sharp ones, you will be pleased with the RFGB-220 and RFGB-240 controller. Both variants will also please with easy installation either in the installation box, by fixing with double-sided tape or just placing it on the table. The buttons themselves have also undergone innovations and will offer a more modern and cleaner design.

INELS BUS also has its iron in the fire, even if it's not iron. This is a 1-module miniCU, which is a breakthrough in the field of central units. It is the smallest ever developed in the world. It will easily manage smaller buildings such as apartments, flats or cottages, as well as large hotel rooms. It works as a separate master or as a slave for superior CU3-0xM units. Just as the miniCU handles your installation perfectly, the glass controllers enhance the overall impression of the room. Even in the wired installation, were re-innovated the glass controllers, which, as with the RF solution, were given not only a round shape, but also new icons for individual buttons.
We will stay in the hotel industry for a while. Another novelty is a new application for easier booking and room management. It communicates with the individual central units via LAN and, thanks to its clean environment, is a great helper when booking and, for example, accessing the room in the event that the guest loses the room card.
The last big innovation that can make life easier for a lot of people is the control of voice assistants. INELS is fully functional from this year with Google home and Amazon Alexa. At home, they can be used mainly for playing music, calling friends and controlling selected products from the iNELS series.
You can find more information about the mentioned news and much more HERE.
'' We hope you enjoyed reading!''
Date of publication: 26. 05. 2020
Calendar
Customer Centre
Technical support
| | |
| --- | --- |
| | +420 800 100 671 |
| | support@elkoep.com |
SALES
| | |
| --- | --- |
| | +420 573 514 221 |
| | sales@elkoep.com |