iNELS has taken control of the Bhutan National Bank
Additional information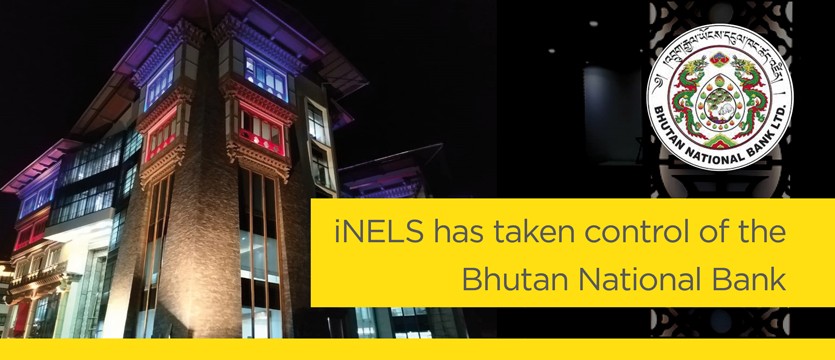 ELKO EP has managed to complete extensive implementation through its foreign partners in Bhutan, South Asia. The National Bank of Bhutan was built in the capital, Timphu, using iNELS intelligent wireless and bus wiring.
The Bhutan National Bank is a four-storey building of typical Bhutan appearance and architecture. There are more than 2,000 lights in the entire building that are under the full control of the iNELS Bus System.
They are controlled by a central unit and actuators that also provide shielding and / or air conditioning. The control is carried out using the EST touch units. Altogether more than 300 iNELS elements take care of the entire building. Fire alarms, access card readers and security buttons were also installed as part of the bank's security.
In South Asia, Bhutan, iNELS (the intelligent installation brand of ELKO EP) won a tender for this prestigious contract with S.A.P. Automation, designing and building ultra-low energy buildings. With this partner, iNELS will also implement smart installations at the New Delhi Railway Museum, the capital of India, near the Czech Embassy.
The first ever project implemented by ELKO EP in Bhutan was probably the most famous building in the country, over a 50-meter-high statue of Buddha Dordenma with a beautifully decorated palace in its interior.
The third prestigious building in Bhutan, with the participation of the Holesov Company ELKO EP, is the Toyota showroom. This project was created through collaboration with STCBL (State Trading Corporation of Bhutan).
Date of publication: 21. 03. 2019
Calendar
Customer Centre
Technical support
| | |
| --- | --- |
| | +420 800 100 671 |
| | support@elkoep.com |
SALES
| | |
| --- | --- |
| | +420 573 514 221 |
| | sales@elkoep.com |