Open Sesame, open the gates, the shutters and the blinds
Additional information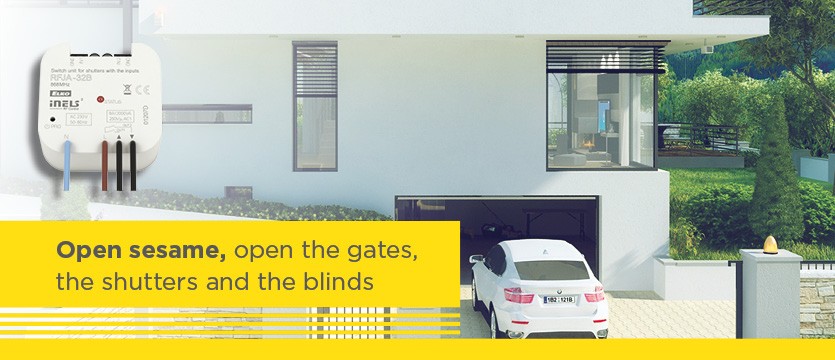 Just as in the fairy tale 'A Thousand and One Nights' you can also control garage doors, gates, barriers, as well as awnings, blinds and outdoor shutters. Thanks to the mini box enclosing the RFJA-32 wireless switch, you get a new convenient way to control and save yourself a lot of trouble with renovations, home or office improvements.
An innovative actuator RFJA-32 developed and manufactured by ELKO EP allows the current features (gates, doors, barriers, awnings, blinds, shutters ...) to be controlled by existing buttons and switches, as well as remotely, for example, from the comfort of your seat or from the car up on arrival at work.
In addition, you are not dependent on one controller; you can have them for every member of the household or employee. This way, you can simply add switches to control the opening gate or garage door, for example, in the corridor or at the reception desk at your job.
Thanks to the simple integration of the RFJA-32 component with the current switches, the original control can remain the same, so even your grandmother will not worry about stretching the marquee or turning the blinds. You can also control the same devices remotely by key fob (RF Key) or remote control (RF Pilot).
Because the iNELS system is fully versatile, it's all about control from your smartphone, tablet, smart TV or even Samsung S3 watch with the smart RF box (eLAN-RF-003).
The RFJA-32 Wireless Switch device can be a very simple and inexpensive part of your new, smart home.
More information and technical specifications can be found in the product catalogue.
Date of publication: 19. 02. 2019
Calendar
Customer Centre
Technical support
| | |
| --- | --- |
| | +420 800 100 671 |
| | support@elkoep.com |
SALES
| | |
| --- | --- |
| | +420 573 514 221 |
| | sales@elkoep.com |