Pool mania continues. How to make it more enjoyable at home?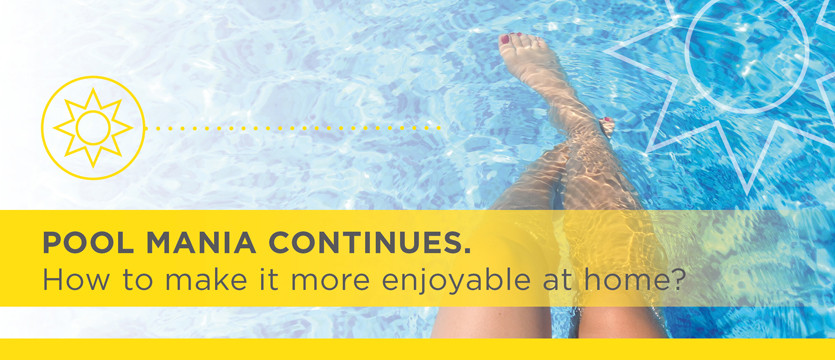 When the great pool building frenzy seemed to be slowly coming to an end, a global pandemic came. With it came a new influx of demand for swimming pools, pumping tanks, and cool home gardens.
"People who were used to traveling on foreign or exotic holidays, they did not think about swimming at home for many years. But suddenly they could not travel, so they bought a garden pool with the money saved," explains Roman Miklík, sales representative of ELKO EP, who is in charge of sales to a leading Czech pool manufacturer, to which he supplies intelligent components, level relays, and switches. "They work a continuous operation, yet they can barely produce sufficient and have had to build more halls. There is a great demand not only from the Czech Republic but especially from Germany, which is experiencing a truly incredible explosion of interest in home swimming pools this year," he adds with a second breath. Uncertainty about coronavirus and hygiene rules for this summer is only accelerating demand.
When there is a risk that we will not be able to travel to the beaches or swimming in the foreign sun, let's examine at least a few tips on how to make "our home swimming" as pleasant as possible – because swimming pools bring not only refreshment but also a lot of new worries – how to keep water at the ideal temperature, how to filter it properly, how to prevent possible water spillage.
The comfort of remote control
If you want to be sure that all electrical appliances are on or off, you will appreciate the iNELS app. Since the beginning of the year it has a new design and has one form for mobile devices, tablets, BUS and RF variants. With its help, you can constantly check everything you need, which is especially useful when you are away from home. In the case of a swimming pool, you will also appreciate the remote switching of lighting or filter equipment. The RFSA-61M wireless switching component, with which you can also control from the elegant RF-KEY key fob, is best used for this purpose. The range of both devices in the open-air reaches up to 200 meters and will safely cover your entire garden. With the innovative RF-KEY 40 and RF-KEY 60 key fob, you can control not only the lighting elements in the garden, adjust their intensity or the colour of the lighting, but also other devices in the home.
"We had thought about upgrading the key fob with waterproof components, but our customers warned us that it was not necessary. Because if the key fob drowned, all you have to do is dry it, replace the flashlight, and it keeps working," says Roman Miklík with a smile.
Flood protection of the premises
During the summer, the weather often brings unexpected twists and turns – and after a sunny day, there is often an unexpectedly intense summer storm or torrential rain. In order not to be surprised by a flooded house, it is good to install a level switch or a wireless flood detector that can alert you, your neighbors or family members in time. Such a solution is also suitable for a room where you have a washing machine.
"Our new innovation this year is the HRH-9, which is perfect for pumping tanks or rainwater storage. It can monitor up to six different levels and when it reaches a level in any of them, it can start switching certain functions or signals. It can pump water from the well into the tanks so that there is a sufficient level in them, or, conversely, if the level is low remain off. Level switches also serve as protection for the pump against the no-load operation," adds Roman Miklík
It's smart to get thermostats
If you do not want to worry about the temperature of the water in the pool, a thermostat is especially useful, which can automatically switch on the circulation pump as soon as the temperature rises due to solar heating. "We have a wide range of TER series, which includes single-level thermostats, all with ranges. For summer, for example, TER-3E, TER-3G or TER3-H are suitable," adds Roman Miklík.
Date of publication: 08. 06. 2021
Calendar
Customer Centre
Technical support
| | |
| --- | --- |
| | +420 800 100 671 |
| | support@elkoep.com |
SALES
| | |
| --- | --- |
| | +420 573 514 221 |
| | sales@elkoep.com |