Smart pole in Prague and an overview of IoT iNELS solutions
Additional information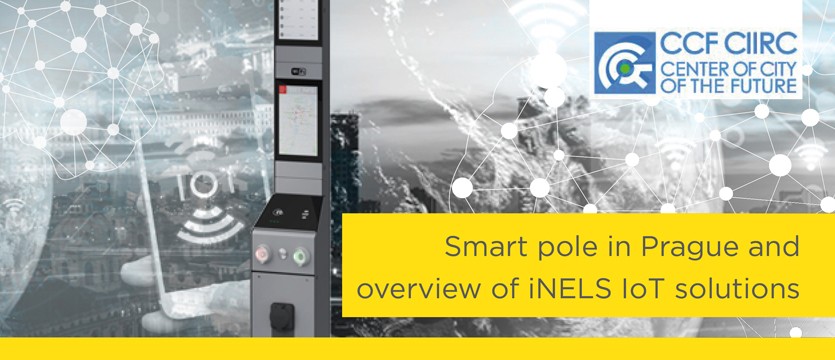 Multifunctional smart pole, smart city, agricultural solutions and IoT elements all in one place. In Prague, professionals, as well as the general public, can see a wide range of products and solutions offered by ELKO EP under its intelligent iNELS brand.
The presentation is part of the City of the Future Center (CFC) at the Czech Institute of Informatics, Robotics and Cybernetics (CIIRC) of the Czech Technical University (CTU) in Prague. The dominant feature is the fully functional Smart Modular Pole, which offers up to 17 technologies from electro mobility charging, wireless charging of mobile phones and contactless payments to touch-panel, cameras or Wi-Fi hotspot in its four variants," said Jiří Konečný, CEO of ELKO EP, who presented the smart city solution iNELS Air at the recent Future City Made By IoT conference in Prague.
Street lighting with up to 30% savings
Smart Pole as a practical part of every smart city is also equipped with a USB charging connector for mobile phones, SOS button for emergencies, intercom for communication with dispatch, information touch panels, air quality sensor, to the main energy-saving LED streetlight lamp. Thanks to pre-set scenarios and intelligent adaptation of illumination intensity to the surrounding movement, it can save up to 30% of lighting costs per year.
The Smart Pole is fully modular and can be assembled in four variants and equipped with only the selected elements according to the intended use in any part of the city. Additional required elements can be added at any time in the future. The Smart Pole as a whole is ready for communication within the Internet of Things (IoT).
ELKO EP offers a comprehensive solution for cities where all Smart Poles are integrated into one central Platform with intuitive control. It is then possible to view data from all columns on the city map, evaluate them and remotely control active elements such as lighting intensity, cameras, local radio, and so on.
Eight new Smart City solutions
In the Smart City and Smart Agriculture interactive panels, the CMB features functional elements in the form of IoT sensors. Among them are eight innovations from the iNELS Air product line, such as a dustbin and container full sensor, parking sensors needed to keep track of free and occupied parking spaces, or an improved air quality sensor. In the Smart Agriculture panel, those interested will see gyro sensor models, a sensitive hive weight sensor, and a multifunctional weather station.
The main advantage of IoT products from the iNELS Air line is fast deployment without complicated installations and above all the possibility of monitoring, evaluating and controlling virtually any sphere in smart cities, from complex building management to intelligent street lighting control.
More information about ELKO EP's smart solutions can be found at www.iNELS.com and about the City of the Future Center at www.ciirccity.com.
Date of publication: 17. 04. 2019
Calendar
Customer Centre
Technical support
| | |
| --- | --- |
| | +420 800 100 671 |
| | support@elkoep.com |
SALES
| | |
| --- | --- |
| | +420 573 514 221 |
| | sales@elkoep.com |