References from the Middle East: We are building in the Kingdom of Jordan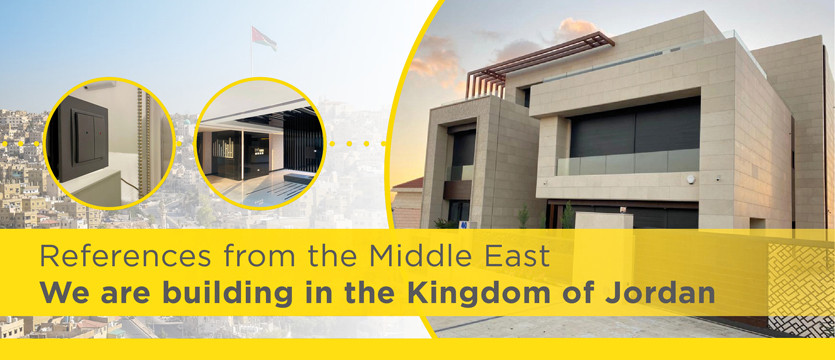 For ELKO EP, the Middle East region has represented a great opportunity for significant strategic cooperation. We are of course speaking about the successful development of a branche in Saudi Arabia. Strong growth on the ground is mainly offered by the fields of intelligent electrical installations and IoT. According to Petr Drastich, head of the Saudi branch, new technologies are strongly favoured not only by local residents, but also by government organizations.
This is also true of Jordan, a kingdom of nearly 11 million, lying to the east of the Dead Sea and the sacred Jordan River. It is here, in the capital Amman, that three very interesting projects have recently been realised, three private villas. ELKO EP collaborated on them with its Jordanian partner, Auto Touch Solutions.
AL-Hekmah Medical Company
Thanks to the iNELS electrical smart installation and the set of wall-mounted glass controls from the GSB3 series, both outdoor and indoor lighting can be controlled completely in this private building. Among other things, the pre-set scenarios, all on / all off, are used for this purpose, it is also possible to control each room of the building separately. The owner's request was to control the outdoor lights from inside the villa. This was accomplished by connecting the buttons to the binary inputs of the device. Of course there is also the control of shutters and dimming.
Mazaya Company Ammán
At the headquarters of the Mazaya Recruitment personnel company, lighting, shutters and underfloor heating can be completely controlled. To fulfil this purpose the RF Touch control unit and the GSB3 and EST3 series controller set are used. The whole system can be controlled from anywhere outside the home, through a mobile application. In addition, it is possible to control all the scenes in the project (all on / all off).
Shisha Company
The headquarters of this tobacco company has everything controlled and under its thumb with the central unit of the iNELS CU3-02M system, connecting the user environment with controllers, units and actuators. Up to two BUS branches can be connected to it, up to 32 iNELS3 units can be connected to each branch.
Thanks to this unit and the EST3 and WSB3 series controllers, it is possible to control lighting, shading and heating throughout the building. It is divided up into to 14 zones, which are monitored by the IDRT3-1 thermostat. The owners also have control over the outdoor pool, where they can control the heat pump, filter pump and lighting. Everything is controllable using a mobile application and a built-in iPad in the wall.
Date of publication: 12. 05. 2021
Calendar
Customer Centre
Technical support
| | |
| --- | --- |
| | +420 800 100 671 |
| | support@elkoep.com |
SALES
| | |
| --- | --- |
| | +420 573 514 221 |
| | sales@elkoep.com |