We shine at Ferrari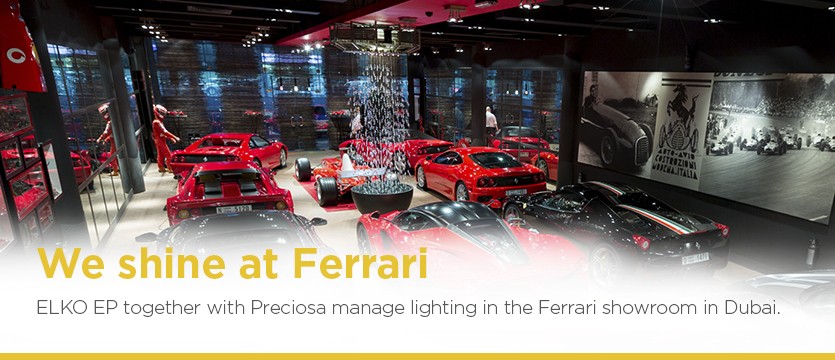 Together with a company Preciosa - Lustry, a manufacturer and supplier of design lighting, we went to Dubai to the private Ferrari showroom.
In order to make the sports cars highly visible to everyone, with our colleagues who were armed for this mission with lights and chandeliers from the special Crystal Automata line, encompassing the charming beauty of crystal and the influence of the four basic natural elements, earth, water, fire and air. Whole lighting can move and make an impression of flowing water - giving a space an unique atmosphere.
We at ELKO EP did not want to be left behind, so we took our best products, on which you can rely. An engine system for moving and rotating, as well as managing the intensity of light, is controlled by our Central Unit CU3-02M with DALI converter and switching actors. All automation system is powered by the PS3-100/iNESL power supply. To connect all the necessary devices, such as switches, control buttons or detectors, we used an input unit IM3-140M for up to fourteen contacts. Controls are provided by the RFSA switches, together with wireless wall controller RFWB and keychain controller. As the ideal mediator for communication between iNELS units and third parties, a Connection server was used that translates protocols for the device and allows them to be managed through the iHC application. Finally, as a design element, the Logus glass frames are black / icy which fit perfectly into the showroom's overall style.
What can we say in conclusion? We firmly believe that Mr. Enzo, the father of all cars with a black prancing steed in character, he would be especially proud.
Date of publication: 04. 08. 2017
Information about the company
ELKO EP is one of the world's leading manufacturers of electronic equipment for residential, office and industrial automation. We have been supplying the world over for the past 27 years; our main domain is primarily relays, but we also supply wireless products and IoT products. But we're not just focused on products; we also propose comprehensive and highly effective solutions.
Our branches are located in 13 countries around the world, but all developments and production takes place in our own premises in Holešov. Thanks to this background, we have received several important awards, such as the Visionary of the Year 2015 or the Global Exporter in 2016.
Calendar
Customer Centre
Technical support
| | |
| --- | --- |
| | +420 573 514 242 |
| | support@elkoep.com |
Complaints technician
| | |
| --- | --- |
| | +420 770 177 028 |
| | balla@elkoep.com |