When winter asks, what did you do in the summer!?
Additional information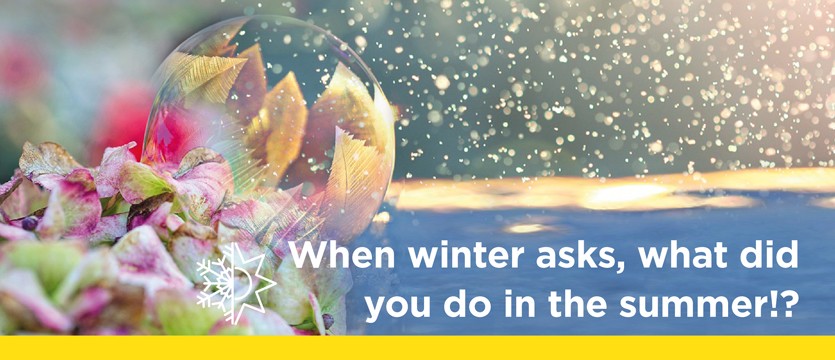 In unrelenting heat we all pray for a little rain, refreshing the air and at least cooling down slightly. Of course, we can't even imagine that there will be the opposite extreme. When winter asks you , what did you do in the summer? You can proudly tell her that you embarked on a smart iNELS installation.
There are many ways to make winter more enjoyable when it comes to smart technologies. It does not matter whether it is a family house, cottage or commercial building. Everywhere the snow is falling, it is freezing and it is necessary to heat. You can save a lot of time, money and your nerves.
Heated driveways and eaves
Oodles of snow that regularly cover the landscape, turning roofs and driveways into hell. You may already have the option of heating them, but no less important is their control, which can also be automated. It is so unnecessary to continuously heat the windows, but only when it is absolutely necessary, learn how in our article HERE >>
Underestimated heating control
The March survey showed that a quarter of households are constrained by heating expenditure.
39% of households said that due to the cost of heating in the winter they do not heat certain parts of the house or apartment as they would like. Another common problem is overheating. Efficient heating control can save up to a third of costs! This was discovered by the well-known actor Tomáš Matonoha, who also brings up other interesting tips on how to make life easier and save money at the same time.
Remote heating control
When Mrs. Winter comes to call, you will appreciate the help with heating. The warmth of your home, as well as cottages or any other building, can be taken care of by our products and the applications of iNELS Home Control, which helps control heating remotely.
Safety first
Besides heating, security is an equally important issue. Whether cottages, a household or a business, it pays not to leave anything to chance. How can you communicate with your objects and control them remotely? The answer is our multifunctional GSM communicator.
ELKO EP – It is wiring that thinks and saves it for you! See other smart solutions
Date of publication: 05. 08. 2019
Calendar
Customer Centre
Technical support
| | |
| --- | --- |
| | +420 800 100 671 |
| | support@elkoep.com |
SALES
| | |
| --- | --- |
| | +420 573 514 221 |
| | sales@elkoep.com |