The New Year greets the Old Year…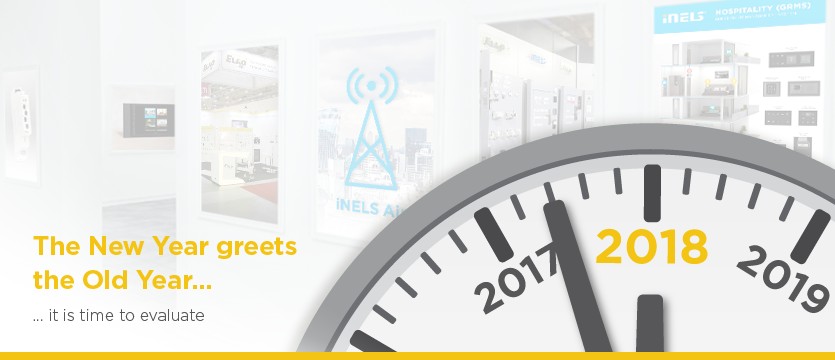 2017 has passed in a flash, so it is time to evaluate, balance, set new resolutions and plan what will come in the following days. Exactly such a moment is upon us at ELKO EP.
First of all, we are very proud of our new product line, iNELS Air, including products for the Internet of Things (IoT). It encompasses various sensors, detectors and controls, communicating with the three most common networks for IoT in the Czech Republic - Lora, Sigfox and NB-IoT.
A new batch of industrial monitoring relays of the VR and CR series has seen the light of days. We've also developed a Touch Panel, a modern 10-inch control for controlling our iNELS systems. Last but not least, we continue to develop products and systems for the automation of large hotel buildings.
In 2017 our family has grown with two more additions. We set up two new branches, one in Croatia under the control of director Bruno Crnicki, and the other in India, where Anshu Buch watches over it.
We were honoured to take part in several large exhibitions and fairs during the year. For example, in the Czech Republic, we visited the Amper and Urbis fairs in Brno, we were part of the world's largest ISE 2017 exhibition, focusing on the integration of AV systems. We also ventured further into Europe, in no particular order to Bratislava (Coneco Racioenergia), Stuttgart (Eltefa), Barcelona (Construmat), Lisbon (Décor Hotel) and Athens (Xenia 2017). In the world, we visited Jordan and Jimex 2017, Iran Smart Expo 2017 or Saudi Build Expo in Saudi Arabia.
But we did not fly all over the world alone, only with our interactive panels and trunks full of technical miracles. Our products also decorated exotic foreign destinations. For example, the multimedia player Lara set off on a trip to the Maldives to beautify the true paradise of the tropical resort of the Velaa Private Island. In Dubai, our products oversaw the lighting control in the Ferrari luxury car showroom, and in the Bhutanese kingdom, we operated in two buildings, the Bhutanese National Bank and Toyota showroom. Throughout the world, we also kitted out several luxury hotels and many other buildings.
We have become proud partners of many technological events, but also the traditional family festival, the Holešov Regatta, where our company band the ELKO Band played. With football players of Fastav Zlín, from the Czech Premier league we experienced a great league campaign, as well as the Europa league in Europe, where they measured their strength against leading European clubs. We also try to help where it is needed - this year, for example, the Kromeriz Hospital and the Good Angel Foundation.
As happens, some great people left us during the year. In return a lot of smart and clever people have joined and strengthened the company as we forge forwards to continue to create the best for you.
So that was 2017. Thanks to all of you! And what awaits us at the beginning of the New Year? We believe it will be even better than the last one. We are currently preparing brand new panels for exhibitions, setting up a new branch in Vietnam, developing and fine-tuning the design of our smart lights for public lighting, starting production of parking sensors. The development department has its head full of new products, whether in relay or intelligent electrical installations. We are tuning the control applications for our systems, production is at full speed. But no need to worry - you'll discover everything in time!
Date of publication: 09. 01. 2018
Calendar
Customer Centre
Technical support
| | |
| --- | --- |
| | +420 800 100 671 |
| | support@elkoep.com |
SALES
| | |
| --- | --- |
| | +420 573 514 221 |
| | sales@elkoep.com |